Shogran Valley is located in Pakistan's Mansehra District, a lovely hill station and tourist attraction in the well-known green-carpeted Kaghan Valley. Shogran Valley & Sri Paye Meadows have become the most favourite spots due to their breathtaking landscape and being a short drive from Islamabad. However, it will be no wrong to say that the serenity, nature, and picturesque dreamland of Shogran have no equal in the rest of Pakistan. Whether it's the thickly wooded summits, the meadows at the top, or the spectacular Birdseye view of surrounding areas, this location is a fairyland.
During the sunrise and sunset, you'll have a stunning view, especially in foggy weather. You'd feel as if a sea of clouds enveloped you. The glittering snow-covered peak, glistening ice dome, deep forested valleys, and white clouds floating above would provide an excellent backdrop for photographs.
Shogran Location:
Shogran Valley is located on a verdant plateau of Kaghan Valley at an elevation of 2,362 meters (7,749 feet). Balakot is the first town to reach Shogran. The valley is approximately 222 kilometers from Islamabad, 34 kilometers from Balakot, and 65 kilometers from Mansehra. Shogran is growing fastly. New hotels, resorts, shopping areas, and restaurants are opening, and the KPK govt also have various plan to develop this area. Therefore, Shogran Valley remains an all-time hot favorite tourist point. In summer, you can witness lush green valleys and stunning waterfalls, and in winter, live snowfall attracts tourists to this valley.
The people of Shogran valley are peaceful and friendly and happy to host you in the valley. Summer is an excellent time to go. The park is popular among families and hikers. One of the most fantastic places to go is Forest Rest House. The majority of tourists and families do relax on the vast lawns of the rest house. From the rest house lawns, one can see Sri Paya and Musa ka Musala Peak.
Best time to visit Shogran valley?
Summers and winters are both excellent times to visit Shogran. Although some hotels get closed due to heavy snowfall, live snowfall lovers rush to Shogran valley for impressive snow-capped mountains. Peak season starts from June to August. The weather is lovely during this time. The temperature falls to 3 °C (37 °F) in the evenings, from a high of 20°C (68°F).
The monsoon winds sometimes trigger hail storms, and storms are occasionally accompanied by hail. Thunderstorms and heavy rains provide visitors with a way to keep cool while moving. However, due to the cold night temperatures, people should put on warm clothing. The Shogran valley & Sri Paye meadows are completely blanketed in snow throughout the winter season.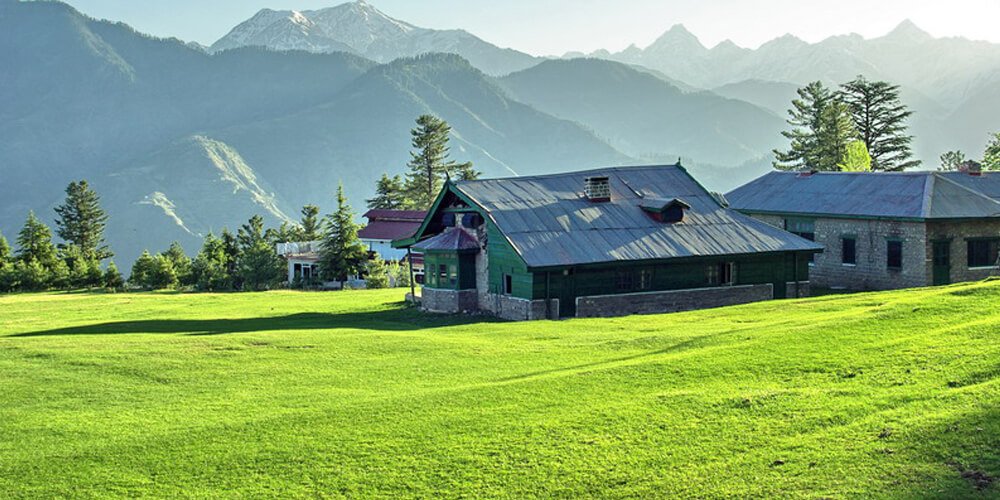 Jeep Ride from Kiwai to Shogran Valley
There is around an 8 km 4×4 jeep track leading to Shogran village from Kiwai waterfall point. The road condition is not very bad, but it is recommended that you don't travel by your vehicle on the safe side. During traveling on this track, you will view dense pine trees, and in winter, the way wear a white shawl of snow.
Shogran Weather and Temperature:
The month of June, July, and August are the optimum time to visit Shogran Valley. In the summer months, temperatures are pleasant. Families and children make up the majority of those who vacation and spend their summers here. Shogran will be open all year long. If you want to see natural snowfall during your visit to Shogran, make your plan during the winter season between December to February.
Shogran Height and Altitude:
The Valley is located at an elevation of 2,362 meters (7,749 feet) above sea level. Shogran is a distance of 34 kilometers (21 miles) from Balakot City and is positioned at 2,362 meters (7,749 feet) above sea level.
Siri Paye Meadows:
Shogran's most popular attractions are Siri Paye lakes, which translates to "high brushing desert." In Hindko, ' Paye' means "high brushing ground." Paaye is a magnificent verdant hill located at the height of 2800 meters above Shogran level.
While "Siri" means "lake," it's a bit of lake opposite Paye glades. Siri solidifies during the winter so that you may walk across it. The lake is 3,058 meters above sea level—a pristine mountain lake glimmers in the middle of the meadow. Siri Paye is bordered by Makra Peak, Malika Parbat, and Musa ka Musala, all of which are home to wild yellow and lilac blooms. A 4×4 jeep would be required to reach Sri & Paye meadows. Some hikers and trekkers also like hiking, but it is still challenging to go on foot.
Siri Paye has remained untouched because of its high mountains, tight road, rocky landslides, and winter snowfall. Paye flowers bloom in a rainbow of colors in the spring season, with a backdrop of white Makra Peak. In the winter, it becomes a large meadow of snow.
Shogran to Siri Paaye Jeep Charges / Rent / Fare:
If you want to go direct Sri & Paye from kiwi waterfall and return on the same day back to kiwi the fare would be around 4000 to 5000 in peak season, but it varies in mid and off-season down up to 3500 to 4500 PKR. And in case you rent the jeep from kiwi and do a night stay in Shogran valley and return to kiwi the next day, then the fare may be around 6500 to 7000 PKR in peak season off-season may become down to 4500 to 5000 PKR.
Jeep fare from Kiwai to Shogran and Shogran to Sri & Paye is about 3500 to 4000 in peak season and will vary in other seasons, respectively. The road from Kiwai to Shogran is better, but from Shogran to Siri Paye Meadows is in poor condition with many bumps. In the rainy season, owing to a muddier route, the road is extremely slippery and hazardous. Siri Paye Meadows is a round trip of roughly 1 hour from Shogran.
Avoid going Shogran with your vehicle:
Some travelers try to go to Shogran valley by using their vehicles which can be fatal in some cases. So the road condition is better till Shogran from Kiwai but still for the safe side it would be much better to hire a jeep for this track.
According to our drivers, the people who drive the jeeps around here have mastered driving on steep, icy roads with their eyes closed. In the 1970s, Pakistan's military built Jeeps for its use. Those Jeeps had served for many years when they were later sold to private buyers.
Frequently Ask Questions – Shogran Sri Paye Meadows
Where is Shogran?
Shogran is a mountain resort in Pakistan's Khyber Pakhtunkhwa province's Kaghan Valley with an elevation of 2,362 meters. It's located about 200 kilometers from Islamabad and between Balakot and Naran.
Shogran Weather
The climate in Shogran is pleasant in the summer and harsh and snowy during the winter months.
How to get to Shogran?
The best way to get to Shogran on your own is with a private vehicle. To go from Islamabad to Shogran, you must drive for around four hours north to Kiwai and take a jeep for about half an hour. You'll have to return down the same jeep route again.
Things to do in Shogran Valley & Sri Paye Meadows
Of course, you may spend the entire day sitting in your Shogran hotel sipping chai, but why pass up the opportunity when there are so many things to do in Shogran?
1.    Trek from Shogran  to Siri & Paye Meadows
2.    Take a bumpy jeep Safari
3.    Sit on the iconic swing in Sri & Paye
4.    Take a Horse ride in the nature
5.    Relax by the Sri Paye Lake
6.    Camp in the meadows
7.    Go for short hikes around Shogran village
8.    Spend a night by the bonfire activity
Shogran Valley hotels & Resorts:
Bypassing every day, Shogran Valley is becoming one of the most visited tourist attractions. As a result, hotels, rest houses, and resorts are available from low to high budgets.
Here is the list of some best hotels in Shogran Valley:
Cedarwood Resort Shogran
Pine Park Hotel Shogran
Lalazar Family Resort
Kanloop Cottages
Fridays Hotel Shogran
Shogran Hotel
Hill Top Guest House Shogran
Pine View Hotel Shogran