Skardu is a gem of beauty, peace, and nature in the extreme north of Pakistan. It would not wrong to say that Skardu is an example of nature's perfection. The valley is home to several of the world's highest mountains, including K2, K3, and Gasherbrum. All are linked by this valley, which contains routes to various high mountains.
Thousands of climbers worldwide visit these high peaks every year; some have even lost their lives while attempting to reach the top. After Jaglot on the Karakorum Highway, a secondary route leads to Skardu. The journey lasts less than seven hours after the construction of the new highway and is dotted with several streams, springs, and friendly locals. This region has become important after the China-Pakistan Economic Corridor project and will prove a game-changer to boost economic activities.
CPEC is a $64 billion infrastructure project that will link China's strategically important Xinxiang province to the port of Gawadar in Pakistan's far-flung Balochistan. It will provide China with direct access to Africa and the Middle East while generating billions of dollars for Pakistan and stimulating economic activities along with the road network, replacing the legendary Silk Road.
One reaches Shangrilla resort shortly after passing the ancient wooden bridge that spans the River Indus, a beautiful world amidst the surreal mountains. The village Kachura lies at higher elevations, where pine trees surround the lake's transparent water. The sunrise over the mountains is a beautiful sight.
Skardu in winter:
As soon as the winter season gets started, this questing makes the round at our query center. Is Skardu open in winter? So the answer is YES. Although Skardu remains open the whole year. In the winter season, airflow becomes unpredictable due to rapid weather conditions changes.
Most of the time, the flight (Only PIA flights operational for Skardu) is either delayed or canceled due to bad weather conditions. However, traveling by road is still possible with no barriers. The winter season in Skardu begins at the end of September and lasts until the end of March. Between December and February, Baltistan is covered in snow. During these months, the area is surrounded by snowflakes.
In winter, the weather in Skardu and Baltistan is frequently overcast. It makes it virtually impossible for mountaineers to reach K2 during their trip. The temperature plummets below -25 degrees Celsius. In the winter, the average temperature is -10°C to -15°C.
Skardu in Summer:
Summer is the peak season to visit Skardu and its surrounding places. In the summer season, the beauty of Skardu is enhanced by its pristine spring water, delectable fruits, the blue Indus River water, historical sites, lakes, and pleasant weather that draws tourists from all over the world.
Skardu city is the main urban area and headquarters of the Skardu district, a strategically important northern area of Pakistan that adjoins China, Afghanistan, and India. The region is a significant travel and trekking destination, and the valley serves as a gateway to four mountains towering over 8,000 meters high.
The valley is a popular destination for mountaineers throughout the year, with an active season from April through October. The area is also snowy and chilly in the winter. Summer in Skardu is lovely, with lake Kachura, the Mantokha waterfall, the Sarfranga Cold Desert, Shigar Fort, and Buddha Rock.
Best Time To Visit Skardu
Skardu is best visited during the summer months of June, July, August, and September. It's the ideal time to enjoy lush green scenery at a pleasant temperature without excessive rain and flee from the oppressive heat in Pakistan elsewhere. October is another excellent month to visit Skardu. During this season, make a trip to Skardu to view the area in golden fall hues. Winter transforms Skardu into a magnificent white fantasy realm, but getting access to the city will be more difficult. Skardu: a gem of beauty and peace
Skardu Weather
When it comes to the best time to visit Skardu, there are three distinct seasons. April through October is considered the tourist season when the weather in Skardu is at its finest. Temperatures may vary from 26°C to 12°C, with rainfall ranging from three to four times per month.
Skardu, on the other hand, has a much lower average temperature than these others. However, the winter season in Skardu can dip below -10°C; December to February is when it happens most frequently. Therefore, flights are commonly canceled in Skardu during this period because it is not the best time to visit.
Historical Forts in Skardu
The Skardu Valley, in Gilgit-Baltistan, is home to many ancient monuments, including the Skardu and Shigar forts. Take a look at some of Skardu Valley's historical sites.
Skardu Fort (KHARPOCHO)
Skardu Fort is also known as "Kharpocho," which means "King of Forts." On his orders, King Sher Ali Khan Anchan constructed this fort as a crucial defensive structure in the region during the 16th century. This fort was built on a mountaintop as a precaution against external dangers. It included monitoring the valley's entrance and exit roads.
A large plaque on the fort's wall, located on a high plateau in the Skardu Valley, advertises tourism in the region. In a panoramic view of Skardu Fort, one may see the entire valley.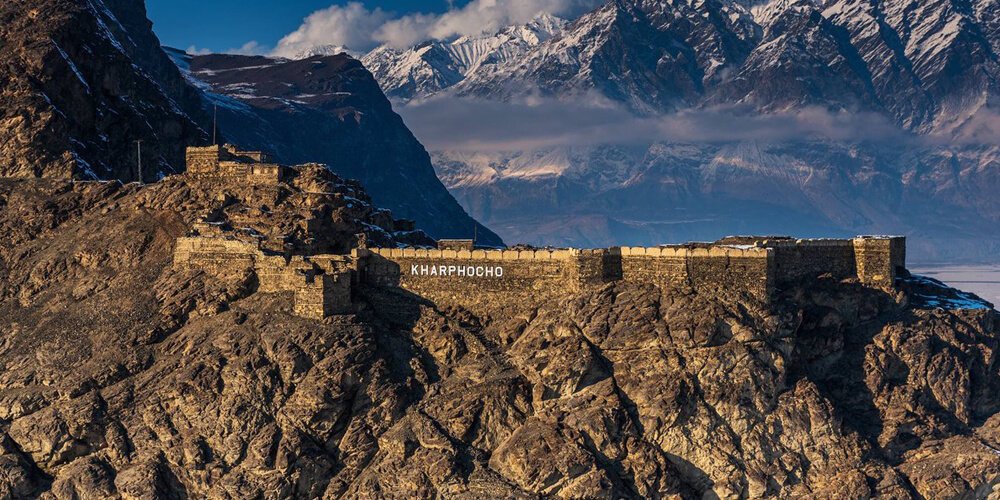 Shigar Fort
The Shigar Fort, also known as The Fort on Rock, is a historical fort in the Shigar district of Baltistan. It was constructed in the mid-17th century by the Raja of the Amacha Dynasty of Shigar. Aga Khan Cultural Service Pakistan has restored the Fort. The Fort was converted into a museum and luxury hotel managed by Serena Hotels after rehabilitation, which began in 1999 and concluded in 2004. It cost roughly $1.4 million to restore it.
Skardu Lakes: A gem of beauty and peace
The Skardu Valley is home to some breathtaking lakes. Freshwater glimmers in the vicinity of Skardu, adding to the region's beauty. These lakes in Skardu city, aside from the natural beauty of Skardu and its surroundings, will amaze you.
The following are the most stunning and frequented Lakes in Skardu.
Shangrila Lake, also known as lower Kachura Lake.
Upper Kachura Lake, also known as Frogh Scho.
Sadpara Lake,
Blind Lake, also known as Jarbazoo.
How to reach Skardu
Skardu is accessible both the way by road and by air. By road, it will take about 13 hours (600 kilometers) if you are traveling from Islamabad, Pakistan's capital city. But frequent flights landing from all major Pakistan cities have made it easier to visit Skardu. Moreover, govt is taking steps to start international flights operation at Skardu airport.
Skardu Airport, which is Pakistan's highest airport and one of the most stunning airports globally, is located on a mountainside surrounded by towering peaks that reach heights of more than 4,500 to 5,800 meters. It sits 2,230 meters above sea level. Skardu airport is notorious for tricky landings due to its terrain, which poses a problem for pilots every time they touch down.
Gilgit Skardu Road Update Condition:
The road from Lahore to Chillas via Babusar Top is entirely carpeted and suitable for all vehicles. However, some patches of damaged asphalt can be found between Chillas and the Raikot Bridge. In addition, the Gilgit Skardu Road is bumpy, narrow, and under construction. Nevertheless, almost eighty percent road has been completed. And work is going on very fastly. 
Best Places to Visit in Skardu
Skardu and its surrounding region are full of fantastic tourist destinations. Below are some places to visit Skardu and its adjacent areas.
Deosai National Park

Manthoka Waterfall

Shigar Valley

Sarfarangah Desert

Katpana Desert

Upper Kachura Lake

Shangri-La Resort

Manthal Buddha Rock

Skardu City

Satpara Lake
Basho Valley
Sheosar Lake
Nansoq Organic Village
Things to do in Skardu
Sightseeing

Hiking

Boat riding

Fishing

Climbing

Cold Desert Safari

Shopping
Hotels in Skardu
Skardu Shangri-La Resort.
Skardu One Hotel
Tibet Motel Skardu.
Mountain Lodge Holiday Home.
Brangsa Inn Skardu.
Skardu Baltistan Continental Hotel
Reego Hotel
Skardu Hotel Himalayas.
Hotel Mashabrum Skardu.
Serena Shigar Fort Hotel
Serena Khaplu Palace.
Concordia Hotel Baltistan.