Beautiful Lakes of Swat Valley
Swat beauty will never let you forget its beauty. Once you have entered the remote valleys of its breathtaking landscape, you will feel like you are in another heavenly world. It is a wow place and a great adventure for those who love nature and enjoy challenging themselves physically. For the adventurous, there are some beautiful lakes of Sway valley which are ready to amaze you. However, some lakes are only reachable via trekking or horse riding, passing through thick green forests, gushing streams, and lush meadows.
Mahodand Lake: One of Beautiful Lakes of Swat Valley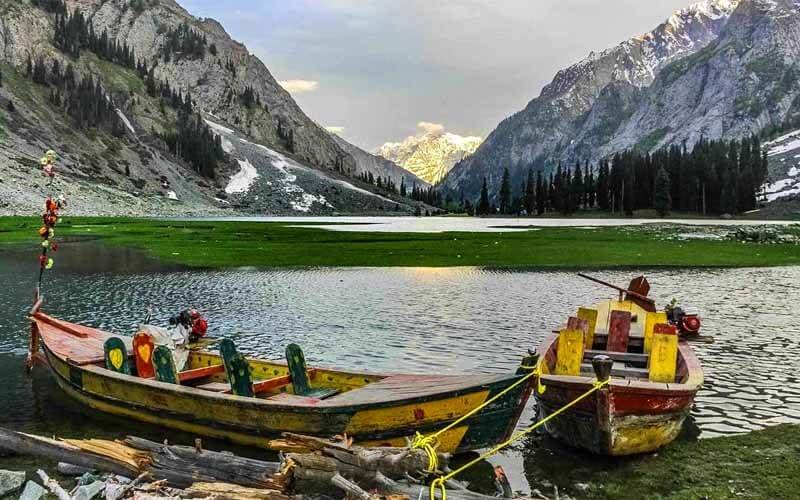 Mahodand Lake is a gift of God on Land, situated at the foothills of the Hindu-Kush mountain range, at an elevation of 9,603 feet (2,927 meters). The lake is surrounded by lush green meadows, gushing streams, snow-capped mountains, and dense forests and among one of beautiful lakes of Swat valley. The lake has a calm and peaceful environment to fill your heart with joy and comfort.
Mahodand lake is a paradise for those who want gateways from the bustling routine life. Mahodand lake is only 40 Km away from the main town of Kalam. The road is bumpy and unpaved and will take around three to four hours to reach there. Small cars are not recommended for traveling towards the lake. It is advisable to rent a 4×4 jeep for traveling toward the lake. Try to start your traveling in the morning after breakfast. In this way, you would have quality time to spend there, and there would be no issue at the time of your return.
Mahodand Lake gets heavy snow in the winter and is not accessible from November to April. However, in the summer the temperature remains cool and pleasant at the lake. During this season, the wildflowers bloom on the banks of the lake, enhancing its beauty more to become an ideal place for the fishermen, as the lake has plenty of trout. Yet fishing is allowed only to those who have obtained permission from the relevant authorities.
Saifullah Lake: One of Beautiful Lakes of Swat Valley 
Besides being a place to find peace and relax, Saifullah lake offers an opportunity to be passionate about trout fishing. Amid mighty green mountains and trees, the lake attracts thousands of tourists, and some people even come from other countries to enjoy this majestic beauty of the lake and trout hunting. This lake has an even more serene environment than Mahodand Lake and includes one of the most beautiful lakes of Swat valley.
From Kalam, it takes around two and half hours to get to the lake through an unpaved road that ends at Mahudand Lake. And from Mahudand Lake, it will take around twenty to thirty minutes to reach there. Even you'll be surprised to see the beauty of Mahudand Lake; though both are worth seeing,
Saifullah lake has a more serene environment. If you visit there at the right time, you can also see a big roaring waterfall near Saifullah Lake. It is said that the water vapors that spread in the air treat the air with freshness.
Kundol Lake: One of Beautiful Lakes of Swat Valley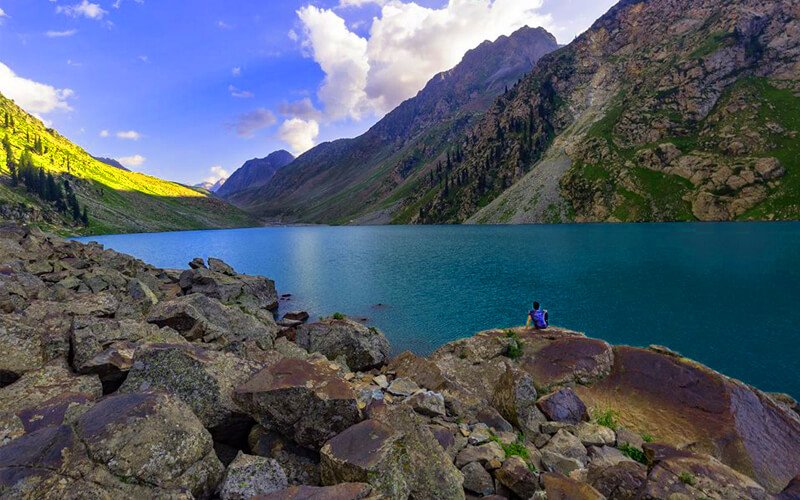 Kundol, another beautiful lake in Swat valley, is located in the mighty Hindu Kush mountains in Utror valley. It is encircled by snow-covered mountains, towering pine trees, and bushes. Along the way, lush green forests, beautiful spots, and gushing streams welcome ones to the place. Most of the trekking trails around the lakes in Ladakh are well protected by the forest around them.
The forests serve as a natural habitat for plants, animals, and birds. Kundol lake is accessible through an unpaved road from Kalam and Utror in a 4×4 vehicle. Earlier jeeps went till village Ladu, but now because floods and rains have damaged jeep track and bridge, trekking time has increased upto 6 to 8 hours till the lake. Kundol lake remains open only during summer. In the winter, it closes due to heavy snowfall.
Katora Lake: One of Beautiful Lakes of Swat Valley 
Katora lake is an alpine glacial lake located in the upper reaches of Kumrat valley near Jahaz Banda in the Upper Dir District of Khyber Pakhtunkhwa. This beautiful emerald lake is at an altitude of 3,500 meters above sea level and is similar to a bowl shape. The word Katora in the locals' language means bowl; that's why it is called Katora lake. It is because the nearby melting glacier waters feed it.
Crystal-clear waters, a serene environment, and high in the snowy mountains are a treat for the eyes of Katora lake. It is a perfect place for enjoying the serene, tranquil atmosphere, the soothing sounds of running streams and birdsong in summer. One can also enjoy trekking and other outdoor activities there.
Daral Lake: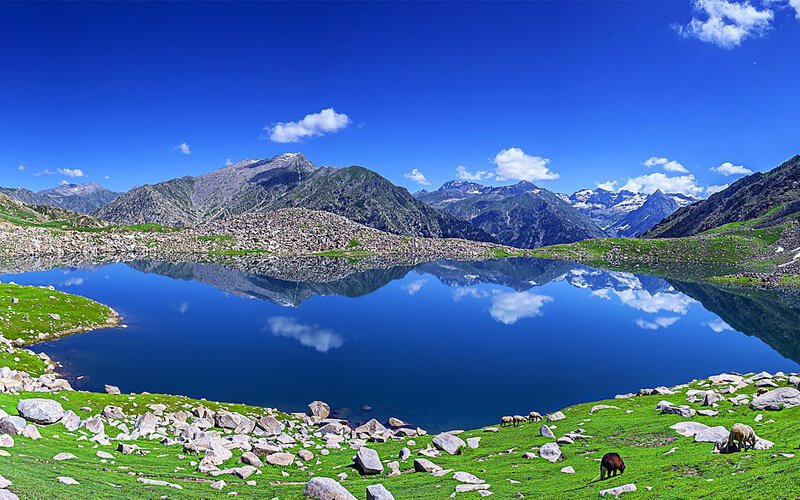 Daral Lake is also a scenic alpine lake, located at about 11,500 feet above sea level in the western upper reaches of Bahrain in Swat Valley. It is one of the most beautiful natural sights in the region. The lake can be reached via Saidgai village after two and half hours of rough trekking.
The Trail to Daral Lake is a fun and interesting journey because it's full of amazing sights and breathtaking views, from mountains and glaciers to rivers and lakes. A closer look to the south will reveal the long and winding river Swat in the distance.
Bashigram Lake:
The glacial lake is a beautiful spot in the alpine zone of the Bashigram valley, about five to six hours trekking from Kas village. It is located at 11,500 feet near Madyan Swat valley and is a perfect spot for adventure lovers. The charismatic lake can be reached after five to six hours of hard trekking from Kas village, having a majestic view of the mountain ranges.
The bashigram lake is a beautiful alpine lake, which is trekked on the path of the river stream. It is surrounded by lush green forest and has a mysterious charm with some interesting hamlets and villages. The stunning lake appears like an emerald in the sky and looks beautiful on the backdrop of the mountains.
Shaitan Gwat Lake Swat:
Shaitan Gwat Lake is considered one of the largest lakes in Swat. It has an altitude of 13,500 feet above sea level. It is located at the alpine pastures above Kedam village of Bahrain near Kalam in Swat district; the lake is untouched and a gem of real natural beauty.
The trek will take around twelve to fifteen hours but depend upon the trekker's capacity. Passing through the trek, you will experience unique views of spectacular beauty. However, the trek is huge but full of attractions. There is no guesthouse during the trek, and you have to install a camp. Therefore, carry edibles with you and other necessary things. In the summer season, the weather will be normal and cool, but a bit cold at night.
Spin Khwar Lake: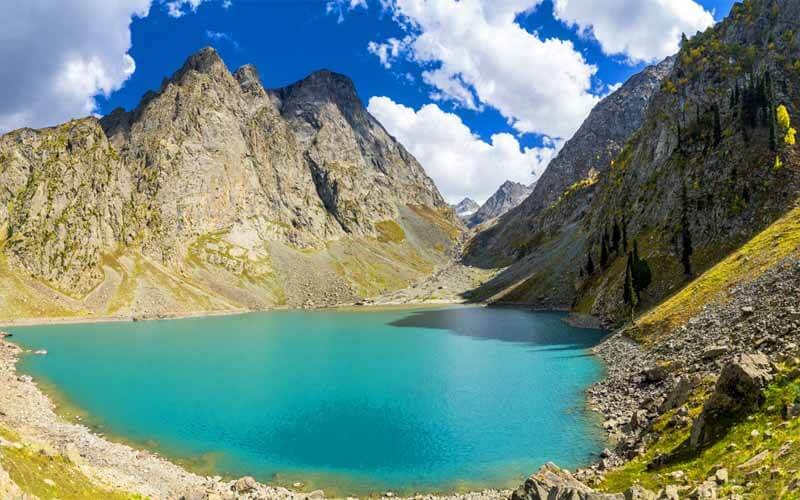 Spin Khwar is a stunning lake tucked away in the lap of mountains, near Kundal Lake and east of a very beautiful Utror valley. The name Spin Khwar means "the little white stream" and has a clear significance as a small stream flows into the lake from surrounding mountains and is a major source of water for the lake.
The lake can be approached via two tracks, one is from Kundal and the other from Ladu Valley. The tracks from Ladu and Kundal are easy to walk and less tiring. The tracks from Kundal are not only difficult but also dangerous. The trail is steep and dangerous. The trek is more of a challenge for the physically fit person but worth it.
Izmis Lake: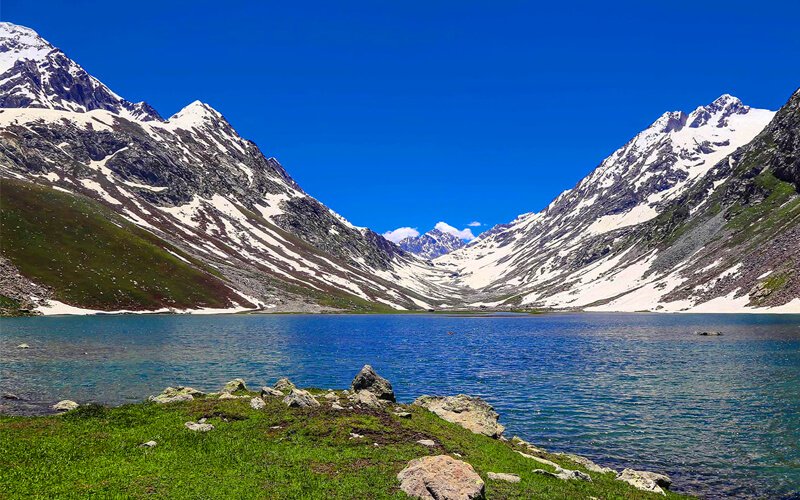 The Lake is located southwest of Utror valley in the Swat district, at the height of the above tree line. The Izmis means cave in a local language, and many natural caves encircle the lake. Therefore locals kept its name as Izmis lake. A small road leads to the location from Utror valley. Only 4×4 jeeps can go there or 3 to 6-hour trekking. The road ends in the loypanrghalay valley.
Godar Lake: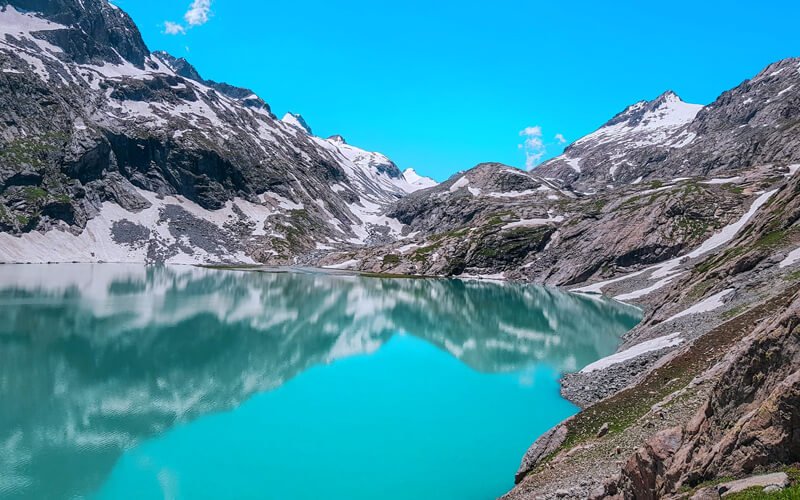 Godur lake is very near to Kalam (one of the most visited destinations) but seldom visited due to its difficult route. It is located at the height of 12,600 ft above sea level.
There are two routes to get to the lake; one is from the Godur Nullah, a narrow gorge that is difficult to climb and strenuous. The second is from Desan (near Utror), about 2,500 feet down. It is long but less steep.