The time is to travel Pakistan as tides have turned, and the world is now ardent to visiting Pakistan. Today we will discuss the best camping sites in Pakistan as it has become a hub of tourism where visitors are welcomed with open arms and hearts. The world has finally seen that Pakistan is not a place of war and conflict but a hub of tourism where visitors are greeted and get the traditional hospitality. However, those reluctant to take our words should read why the Conde Nast Traveller declared the country one of the top tourist destinations for 2021.
Many travellers have recently visited Pakistan and have left fantastic reviews about this beautiful country and its hospitable people. Pakistan's popularity is its scenic landscape, natural beauty, and the best way to enjoy it is by going camping in the wild with a family. Camping is one of the favorite recreational activities of urban dwellers. Pakistan has many fantastic sites where you will be close to nature.
Top Camping Sites In Pakistan:
You'll find various places to stay and explore and different activities to take part in Pakistan's mountains and deserts. Find a place that will take you away from the crowds and let you feel the real thrill of sleeping out in nature. These sites are located up north, but a few are located in the southern part of the country. While camping is the only way to stay the night in some of these areas, others offer camping as an alternative to motels for people who want to wing it and sleep under the stars.
If you plan on travelling to Pakistan, we have compiled some of the best camping sites in Pakistan to help you plan your trip to this beautiful country.
Pir Chinasi
Keran
Arang Kel
Naltar Valley
Fairy Meadows
Beyal Camp
Deosai Plains
Attabad Lake
Mola Chotok
Cholistan Desert
Pir Chinasi (Azad Kashmir):
Pir Chinasi is a hill station located almost 30 kilometers from Muzaffarabad, Azad Jammu and Kashmir (AJK). The camping spot is at an elevation of 9,500 feet (2,895 meters) above sea level. The hilltop is an amazing example of the beauty that AJK has to offer. The green plains of the hillside give you a good view of the city.
When to Go Camping at Pir Chinasi?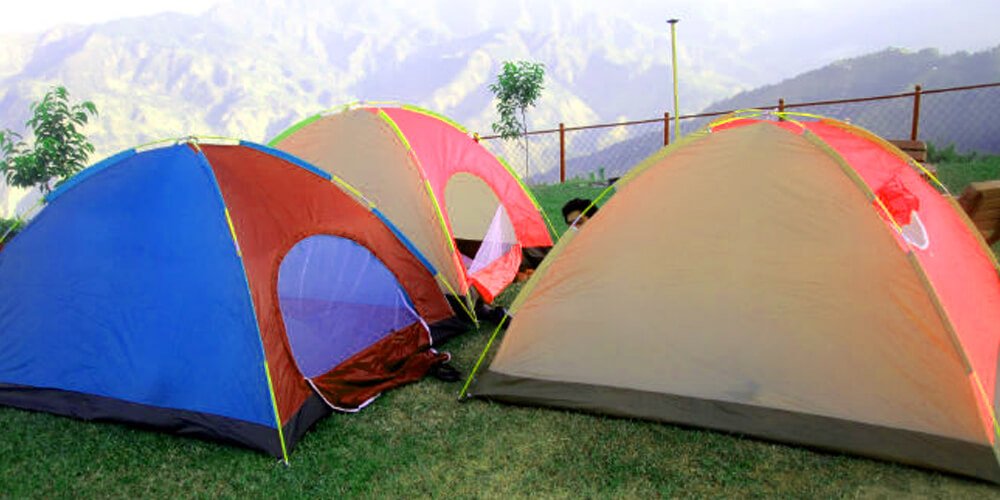 Most often visited by devotees of Saint Shah Hussain Bukhari, the dome-shaped shrine marks the end of the pilgrimage when driving up to the camping site via a well-paved road.
The winter season in this region is enjoyable. Camping time begins in May and ends in October. It would help if you visited from June to September to enjoy the best weather.
How to Reach Pir Chinasi?
It's easy to travel to Muzaffarabad from Islamabad, and it takes almost 4 hours to reach there. Once you're there, a short bus ride will take you to the location.
Where to Camp?
Most people camp near the shrine, but if you want to enjoy privacy and peace, consider hiking about 30 minutes to the nearby hill, which gives similar views and is much less crowded.
Keran (Azad Kashmir):
Keran is a beautiful small village in Neelum Valley Azad Kashmir along the breathtaking Neelum river. The valley has all the basic facilities for tourists. Tourists can make keran as a basecamp to visit other scenic destinations like Taobut, Kel, and Arangkel by booking jeeps from here.
Keran is an excellent place located about 95 kilometers away from Muzaffarabad and Neelum is just over 2.5 kilometers away. A small bazaar surrounds it, yet a traveler entertainment center located at the riverbank about the meandering stream of Neelum.
How to Reach Keran?
Karen is on an easy approach with just 95 kilometers away from Muzaffarabad, the capital city of Kashmir.
Where to Camp in Keran?
Karen is small but keeps spectacular views around it. Best time to visit and for camping is June to September.
Arang Kel:
Arang Kel is a beautiful camping site located about 20 kilometers from Sharda in the Neelum Valley. It's an offbeat camping spot known for its breathtaking beauty and natural surroundings. Reaching it might be a challenge for kids, elders, and even adults, too, considering its elevation of 7,800 feet (2,300 meters) with steep hiking, but the experience is amazing and value-added.
When to Go Camping at Arang Kel?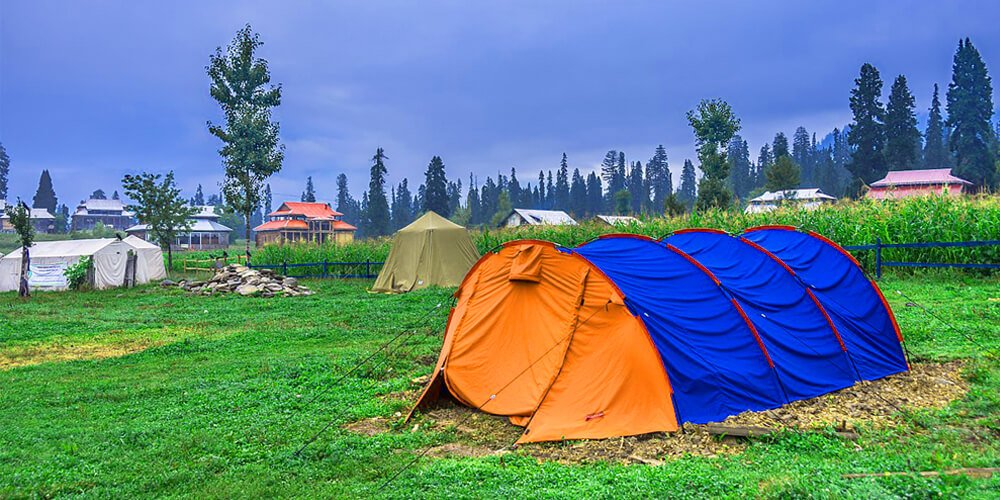 The best time for a camping trip is between June and August. Camping trips are fun and ideal for couples who want to relax and bond.
How to Reach Arang Kel?
Hiking from Kel to Arang Kel will take about 2-3 hours. A cable car runs from Kel to the middle of the mountain with easy access.
Where to Camp?
Many guest houses are available with very reasonable rent. But if you want to make it more adventurous, carry your lightweight camping gear.
Naltar Valley (Gilgit Baltistan):
The Naltar Valley is about 40 kilometers from the city of Gilgit. It is located at the height of almost 3000 meters above sea level. The landscape is very scenic, with lush forests and meadows.
When to Go Camping at Naltar Valley?
It is recommended to go for camping at Naltar Valley from June to September. During this time, the weather is better for outdoor activities, and the road to the valley is easier to travel in a 4×4 jeep that leads you to an adventurous trip.
How to Reach Naltar Valley?
It is a two-hour bumpy jeep ride from Gilgit city that will bring you to the stunning valley of Naltar, where you'll enjoy breathtaking views of mountains and blue glaciers.
Where to Camp?
There are three lakes in this location, collectively known as Naltar, perfect for camping. You'll enjoy the stunning sunsets there. Pari Lake is the most recommended for camping. Besides boating and fishing on the lake, locals also offer camping facilities in colorful tents set up on the shore.
Is Naltar Valley Worth Visiting?
Though around 3 hours of rough and bumpy road travel may exhaust you, But you are amazed by breathtaking lakes and natural landscape once you reach the attraction.
Can Cars go to Naltar Valley?
Road to Naltar is terrible to travel for small cars even small vehicles can't travel on this road. Therefore, only 4×4 jeeps are recommended to reach there.
Fairy Meadows:
The fairy meadows are close to the famous Nanga Parbat mountain base camp and offer dreamy views of the peak. They're one of the country's top draws for adventure-seeking tourists. The meadows are at the height of 10,800 feet (3,300 meters) above sea level.
What is the Best Time to Visit Fairy Meadows?
The best time to visit Fairy Meadows is between April and October, as it's more likely to be more relaxed than during the summer. If you're lucky, you might even have it to yourself!
How Difficult is Fairy Meadows Trek?
Anyone interested in trekking but worried about being too fit should do this trek. It's an easy and great trek for beginners, but it's a very challenging one also. The jeep track from Raikot Bridge to Tatu village is considered dangerous jeep tracks globally.
How to Reach Fairy Meadows?
The trek to Fairy Meadows starts from Raikot Bridge. It is accessible from Gilgit, which is about 80 kilometers from Gilgit. A bus will drop you off at the bridge before it arrives in the city.
The trek starts from there, and it takes about an hour to get there and 3 hours trekking. You can also cover it by riding a horse if you want to shorten the journey.
Where to Camp?
Fairy Meadows is home to a handful of small cottages and campgrounds open to the public. You'll find many tour groups there, and most people opt to go on a tour instead of driving.
Beyal Camp:
In Pakistan, the base camp for mountain climbers looking to conquer the Nanga Parbat requires expertise to reach this climbing destination. However, it is the ultimate trekking challenge for trekkers from all over the world.
When to Go Camping at Beyal Camp?
July and August are the two best months for camping in the area.
How to reach Beyal Camp?
The Beyal Camp is more than six hours' trek from Fairy Meadows by foot. It would help if you traveled with a local guide to avoid getting lost in this wilderness.
Where to Camp?
Since climbers visit "Killer Mountain" each year with the hopes of hoisting their flags on the summit, there are enough supplies of tents and other essential camping equipment to handle the anticipated crowds.
Deosai Plains:
The Deosai National Park is located in Skardu, Pakistan. It's considered to be the second highest plateau in the world. Deosai is one of the best places in the world to experience wildlife. With its rich flora and fauna, you can enjoy all sorts of activities here – from camping to hiking and wildlife spotting. So deosai plains is also considered as best camping sites in Pakistan.
Best Time to Visit Deosai Plains?
Summer and spring weather is the best time to visit Deosai, when the weather is warmer and the wildlife can be spotted more easily.
When to Go Camping at Deosai Plains?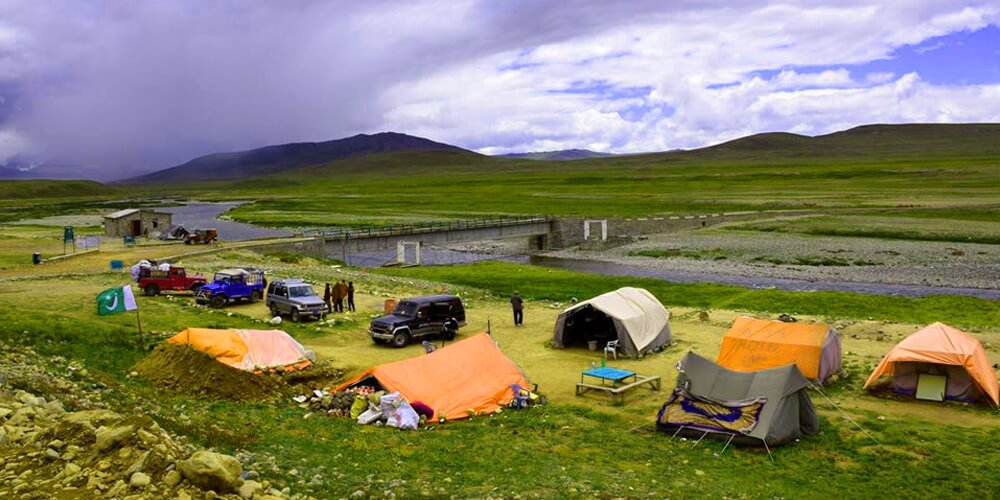 Similar to other parts of northern Pakistan, you'll enjoy this park during the summer months of June and September.
How to reach Deosai?
The park is accessible from both Skardu and Astore. It takes about an hour to get there in a jeep.
Where to Camp?
When you're inside the park, you have the option of selecting a campsite based on your preferences. The perfect spot for setting up a camp is Sheosar Lake, but most people prefer to stay at Bara Pani.
Attabad lake (Hunza Valley):
Attabad lake has also added in the list of best camping sites in Pakistan. This Lake in the Gojal Valley, Hunza-Gilgit, is a remnant of a massive landslide that flooded the Attabad village. It was created in January 2010. Although Attabad lake results from great carnage, it is also one of the most exquisite sites in Hunza. Located amid mountains, Lake is a beautiful deep blue color and offers boat rides, luxury resorts, and overnight camping to visitors. You would only need to rent a tent and be sure that a few people will be there to help you carry the things you need to the Lake's edge. But, at night, it gets freezing. So, to stay warm, you will require a bonfire.
Why is Attabad Lake Famous?
The Lake has become one of the top tourist attractions in Gilgit−Baltistan. After constructing new luxury resorts and hotels, tourists stay at Attabad lake rather than in Karim Abad, Hunza. It offers activities like boating, jet-skiing, and other recreational activities.
 Moola Chotok: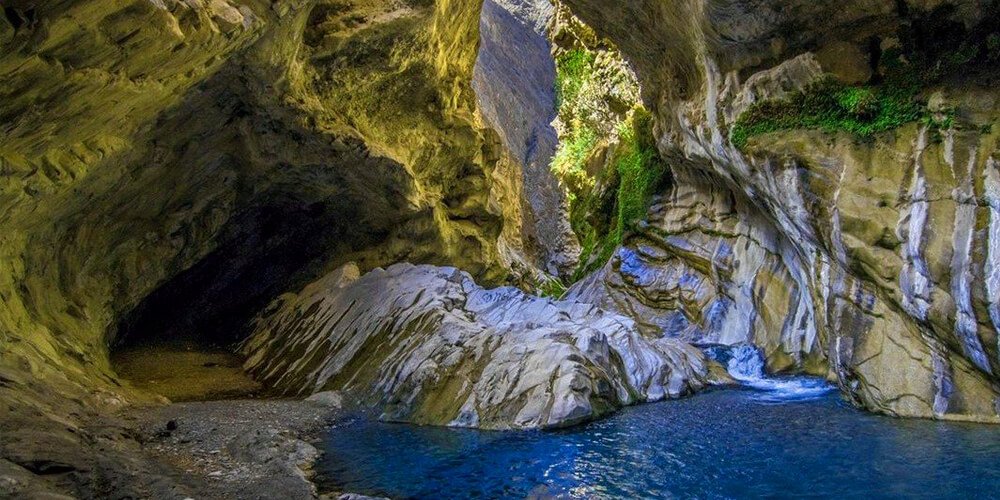 Moola Chotok, a beautiful waterfall in the middle of the Khuzdar District in the southern province of Balochistan, has a unique attraction for travelers. it's surrounded by tall cliffs and a divine waterfall that everyone enjoys watching! However, keep in mind that the hot weather can make the chotok too hot in the summer and one of the coldest places in winter as the temperature can fall below freezing point.
Why camp here?
Why would you want to camp at this beach? Because the drive from Karachi to Moola Chotok takes around 6 hours, and after such a long travel, it will be worth staying night under the sky of stars and enjoying the sea breezes and the beautiful scenery. Besides, the sunrise in the morning will undoubtedly make the stay worth it.
Cholistan Desert: Best camping sites in Pakistan
Cholistan desert is a vast area in southern Punjab is situated 30 kilometers away from the city of Bahawalpur. It holds rich cultural and historical value.
When to Go Camping in the Cholistan Desert?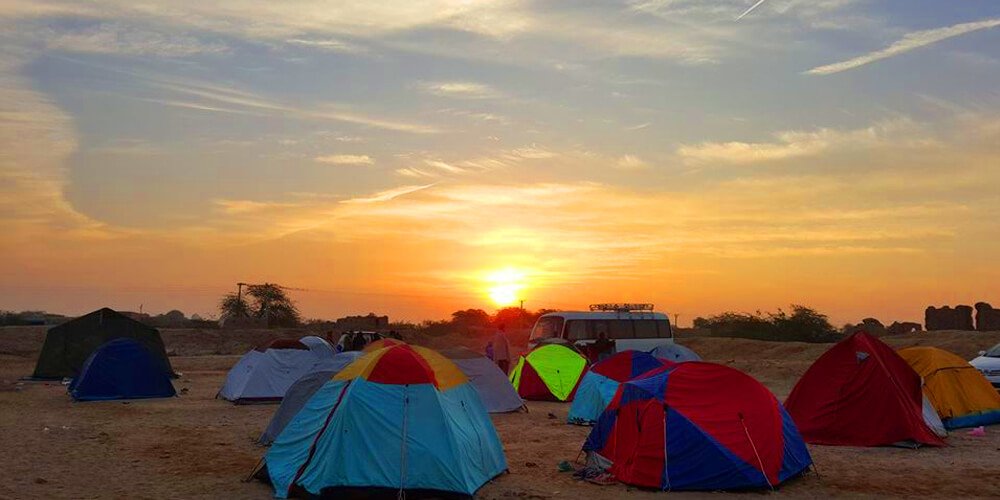 The summer and winter weather is very harsh for tourists in the desert. Therefore, it is advisable to visit between February to April or August to October for the best camping experience.